Bitterwater Outfitters, California Hunts
Central Coast of California Wild pig hunts, buffalo hunts and more...
Capture a part of the American West and experience the thrill of a lifetime doing your own guided hunt with Bitterwater Outfitters of California. Bitterwater Outfitters is located just east of Paso Robles in San Luis Obispo County, California. We proudly serve clients across the globe who are looking for guided hunting experiences near northern California, southern California, and central California. We feature over 300,000 acres of private hunting ground where you can choose from California wild pig hunts, California buffalo hunts, water buffalo hunts, exotics, California deer hunts, aoudad hunts, pheasant and chukar hunts, upland game hunts, turkey and varmint hunts. The original Paso Robles ranch house serves as the hunting headquarters and offers rustic charm that you won't find elsewhere. The headquarters is on a working cattle ranch, so chances are you will get to see some cattle work during your stay. Stay in our cabin or camp on site. After your hunt you can take advantage of our facilities including a fishing pond, shooting range, and BBQ/campfire area.Book your California guided hunt with us on the Central Coast of California and we guarantee you'll be back for more. The California hunt is on!
---
Recent Press
View All

July 22, 2022
Now would be a good time book a hog hunt
Western Outdoor News
view article
Facilities & Equip.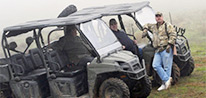 Bitterwater Outfitters offers top of the line equipment and facilities to make your hunting experience outstanding. More Info
Specials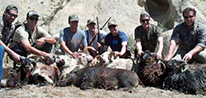 Watch for our specials! It's a great way to experience multiple hunts while saving some cash. More Info