California Guided Wild Hog Hunts
Bitterwater Outfitters offers a free range, fully guided California wild hog hunt with access to over 30 private hunting ranches and over 350,000 acres of prime California hunting ground. The varying terrain includes brushy canyons, rolling grain fields, open flats and oak hillsides. The wild hogs are plentiful and are prime meat hogs due to the various food sources in the area. An average hog weighs 150 lbs. Our two day guided wild hog hunt is up to two days of hunting, but due to the large hog numbers, as well as the experience and knowledge of our guides, a lot of our hunts are concluded on the first day. We have a 98% success rate and we will get you the opportunity to get your game.
Our guided California wild hog hunting is good year round and the various food sources result in high quality hog hunts. May through November the wild hogs are heavily populated in the grain fields. They add acorns to their diet September through November. November through April the hogs are hitting the pistachios, wild onions and green grasses.
If you're looking for wild hog hunting in northern California, central California, or southern California contact Bitterwater Outfitters today!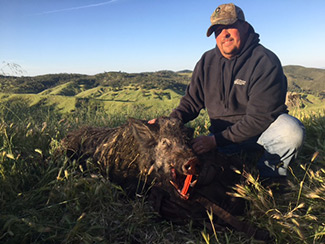 Price:
Hog Hunt (up to 2 days): $875 per person
Premier Ranch Hog Hunt (up to 2 days)
Non Hunter Guest: $200 per guest
** (gratuity not included)

What to Bring:
Good hiking boots and comfortable clothing
.243 or bigger
Current hunting license
Current pig tag
Lead free bullets
What It Includes:
A wild hog hunt includes up to two days of hunting either by foot or by truck/off raod vehicle, field dressing and skinning of game. The hunt includes the opportunity to harvest one hog. If a hunter would like an additional hog and has an additional tag, an additional $975 hunt fee will apply.
All hunts include:
-Tent or trailer camping on the ranch free of charge
-Access to the shooting range to sight in your gun
-Access to the catch and release fishing pond
-Access to the BBQ and fire pit
Meals are not included. See "Lodging" for additional accommodations.
Wild hog hunts operate year round and can be scheduled weekdays and weekends .
2 Hunter minimum or two animal minimum.
Effective July 1, 2008, the California Fish and Game Commission modified the methods of take to prohibit the use of projectiles containing lead when hunting big game and nongame species in an area designated as the California condor range.
Bitterwater Outfitters is in the condor range and lead free ammo is required. For a list of certified nonlead ammunition, click here